Equipments for technical Institutions
Our Academic solutions for Technical Institutions are making studies easy and enjoyable. We provide Equipments and Instruments for various Engineering streams to under Graduate, Graduate, Post Graduate and Research level programs.
Electrical Engineering
We are expertise in setting up various labs for Electrical Engineering on Trunkey basis. It includes Machine lab, High voltage lab, Measurement lab, Power system lab, Power electronics lab and also helps to provide solutions and needs for project works.
AC Motor with Loading Arrangements
DC Motor with Loading Arrangements
Motor Generator Coupled Set
Motor Alternator Coupled Set
Cascade Machine Set
DC Rectifier Unit
Rheostats
Auto Transformers
Isolation Transformers
AC Distribution Panel Board
DC Distribution Panel Board
Motor Expire mental Panel Board
Coupled Machines Panel Board
Phase Shifting Transformers
Potential Transformers
Current Transformers
Resistive Load
Capacitive Load
Inductive Load
Whetstones Bridge
Kelvin's Bridge
Sherins Bridge
Slide Wire potentiometer
Vernier Potentiometer
Crompton Potentiometer
Voltage Ratio Box
Standard Cell
Standard Resistance
Hebert Magnetic Standard
Anchor Ring
Standard Solenoid
Portable Voltmeter
Portable Watt/P.F meter
Analog/Digital Tachometer
Power Analyzer
Flux Meter
Trivecto Meters
Oil Test Set
Primary Injectors
Phontom Loads
CT & PT Testing Sets
Micro ohm meters
Power Electronics Trainer
Transmission Line Trainers
Electrical Machine Trainers
AC/DC High Voltage Test Set
Primary current Injection Test Set
PLC Load Test Sets
Impulse Generatior
High Voltage Spark Tester
Contact Resistance Meter
Winding Resistance Meter
Sphere Gap Testing Unit
Rod Gap Testing Unit
Capacitor Bank
Resistance Divider
Capacitive Voltage Divider
Transmissi online Simulation unit
Universal relay Test
Artificial Rain making Equipment
Transformer Oil Test Kit
Electronics / Communication Engineering
Elmactics is a leading and reliable supplier of full range of Instruments and Trainers used in Electronics and Communication and other related emerging technologies. It includes Microwave, Embedded System, VLSI, Fiber Optics, Digital Signal Processing, RFID, Radar, Satellite Communication etc.
Cathode ray Oscilloscopes
Digital storage Oscilloscopes
PC Based Oscilloscopes
Function/Signal Generators
Pattern Generators
Spectrum Analyzer
Optical Light Source
Logic Analyzers
DC Regulated Power Supplies
Decade Capacitance Box
Decade Inductance Box
Decade Resistance Box
Portable Meters (AC/DC)
Digital IC Testers
Linear IC Testers
Electronic component Testers
Universal Programmers
Bread Boards
Logic Probes
BNC/Crocodile Probes
Soldering Iron
Component Organizers
Rheostats
Linear IC Trainer
Digital IC Trainer
Microprocessor Trainer
Microcontroller Trainer
PIC Trainer
VLSI Trainer
Analog Communication Trainer
Digital Communication Trainer
Microwave Trainer
Fiber Optic Trainer
Antenna Trainer
RFID Trainer
Satellite Communication Trainer
Radar Trainer
PLC Trainer
CDMA Trainer
LAN Trainer
Telephone Trainer
EPBX Trainer
CRO Trainer
FG. Trainer
Color TV Trainer
LCD/LED TV Trainer
Computer Application Trainer
SMPS Trainer
Civil/Architecture Engineering
Elmactics offers state of the art instruments and Equipments in the field of Civil Engineering. We bring the leading edge technologies at your door steps. We offer testing solutions for Metal, Wood, Cement, Concrete and other construction materials.
Material Testing Instruments
Universal Testing Machine
Tensile Testing Machine
Spring Testing Machine
Pendulum Impact Tester
Bend Testing Machine
Torsion Testing Machine for Rod/Wires
Rockwell Hardness Tester
Spring Testing Machines
Torsion Testing Machine
Universal Wood Testing Machine
Fatigue Testing Machine
Impact Testing Machine
Burdhing Strength Tester
Erichsen Tester
Mounting Press
Survey lab Instruments
Total Station
Thedolite
Automatic Level
Dumpy Level
Tripod
GPS
Digital Level
Digital Planimeter
Distance Meter
Distomett
Metric Chain
Leveling Staff/Stand
Ranging Rod
Laser Level
Sound Level Meter
Pachometer
Open cross staff
Rain Gauge
Water Current Meter
Weighing Balance
Offset Rod
Plain Table Set
Drawing Boards
Survey Chain/ Zarib
Prismatic Compass
Survey Compass
Survey Umbrella
Tracing Table
Ghat Tracer
Edge Binding Machine
Measuring Tapes
Alidate
Abney Level
Tangent Clinometer
Line Ranger
Sipirit Level
Stop Watch
Magnifying Glass
Pantograph
Cement, Lime, Plaster, Concrete & Motor Testing Instruments
Air Permeability Apparatus
Laboratory Cement Autoclave
Shrinkage Bar Mould
Plaster Extensometer
Vicat Needle Apparatus
Gill more Needle apparatus
Standard Cone apparatus
Calorimeter for heat of hydration
apparatus
Brazilian test apparatus
Demoulding apparatus
Jolting apparatus
Briquette mould
Air content Apparatus
Compression testing mortar prism
Length Comparator
Blaine's Air Permeability Apparatus
Filter Paper Disc Cutter
Lea And Nurse Air Permeability
Apparatus
Le Chatelier Mould Ring Mould
Water Bath
Kelley Ball Penetration Apparatus
Southard Viscometer
Vee Bee Consistometer
Slump Test Apparatus
Air Pentrainment Meter
Flow Table
Laboratory Concrete Mixer
Longitudinal Compressometer
Length Comparator
Jolting Apparatus
Flexure Testing Machine
Taming Rod
Tamping Bar
Cube Mould
Cylindrical Mould
Beam Mould
Capping Set
Warmer
Vibrating Table/ Machine
Hydraulic Jack
Compression Testing Machine
Tensile Strength Tester
Cement Tensile Testing Machine
Concrete Test Hammer
Permeability Apparatus
Flexure Testing Machine
Beam Testing Machine
Bulk Density Measures
Core Case
Tile Flexure Testing Machine
Thickness Gauge
Needle Vibrator
Jaw Crusher
Pulveriser
Roll Crusher
Core Bit
Motor Mixer
Compaction factor Apparatus
Soil Testing Instruments
Limit Set
Penetrometer
High Speed Stirrer
Liquid Limit Device
Grain Size Analysis
Plummet Balance
Marsh Cone
Soil Hydrometer
Mud Balance
Sand pouring Cylinder
Core Cutter
Harvard Miniature Compactor
Miniature Field Permeameter
Moisture Tins
Pycnometer
Vicsberg Renetrometer
Proctor Needles
North Dakota Cone
Moisture Meter
Soil Testing Instruments
Soil Testing Kit
Consolidation Apparatus
Pressing & Extraction Equipment
Dames and Moore Sampler
Piston Sampler
Constant Volume Mould
Permeability Apparatus
Jodhpur Pereameter
Unconfined Compression Test
Apparatus
Turrent Type 30 Speed Gear Box
Triaxial Shear Test Apparatus
Universal Textile Shear Apparatus
Pore Pressure Apparatus
Soil Trimmer
Soil Lathe Bench Mounting
Water Level Indicator
Lateral Pressure Assembly
Volume Change Gauge
Swell Testing Apparatus
Lowa Bearing Value Apparatus
Impact Testing Machine
California Bearing Ratio Apparatus
Point Load Index Tester
Brazilian Test Apparatus
Static Cone Penetrometer
Sieves
Sieve Shaker
Plate Bearing Test
Compression Proving Rings
Tar, Bitumen & Bituminous Testing Instruments
Ring & Ball Apparatus
Standard Penetrometer
Ductility Testing Apparatus
Stripping Value Apparatus
Benkleman Beam
Centrifuge Extractor
Marshall Stability Test Apparatus
Automatic Bituminous Compactor
Standard Tar Viscometer
Pour Point of Bituminous Compounds
Float Test Apparatus for
Tar and Bitumen
E.V.T. Viscometer
Apparatus for Tension Test
Impact Penetration Tester
Flexibility and Adhesion Tester

Road Unevenness Tester

Road Unevennes Indicator
Profilograph for Fecording Irregularities
of Road and Runway

Aggregate Testing Instruments

Thickness Gauge
Length Gauge
Cylindrical Measures
Metal Measures
Density Basket
Riffle Sample Divider
Aggregate Crushing Value Apparatus
Aggregate Impact Tester
Deval Attrition Tester
Dorry Abrasion Testing Machine
Pug Mill
Los Angles Abrasion testing Machines
Asphalt Testing Instruments
Core Cutting Machine
Rock Cutting Machine

Metallurgical Instruments

Specimen Mounting Press
Polishing Stand
Mounting Press
Specimen Leveler
Metallurgical Specimen Cut-off-Machines
Polishing Machines
Abrasive Cut-off Machine
Carbon & Sulphur Apparatus
Muffle Furnace
Forton's Barometer
Hardness Tester
Metallurgical Microscope
Hot Air Oven
Salt Mist Chamber
NML Samples
Platinum Crucibles
Metullurgical Microscope
General Testing Instruments
Soil Thermometer
Scoops
Dead Weight Tester
Flow Cup Viscometer
Willy Mill
High Temperature Furnace
Humidity Chamber
Laboratory Pulverizer
Autoclave
Hot Air Oven
Electric Muffle Furnace
Hot Plates
Water Still
Vacuum Pump
Shaking Machine
Digital Ph Meter
Magnetic Stirrer
Oil Bath
Heating Mantles
Ball Mill
Humidity Cabinet
Jar Test Apparatus
V.D.R.L.
Rock Core Cutting & Drilling Instruments
Rock Cutting Machine
Diamond Cutter
Rock Core Drilling Machine
Lapping machine
Point Road Tester
Triaxial Test Equipment
Flat Jacks
Field Shear Box
Tape Extensometer
Bore Hole Extensometer
Slake Durability Test Apparatus
Oblique Shear Equipments
Rock Toughness Tester
Rock Classification Hammer
Brazilian Test Apparatus
Polishing and Girding Machine
Hydraulic Pressure Cells
Core Face Preparation Jig
Rock Bolt Tester
Mechanical Engineering
Leveraging on our years of experience in the industry, we under take the supply of all kind of precision instruments for the industry and test houses in Mechanical, Automobile, Aeronautics, Marine Engineering and other related fields.
Metallurgical Lab
Tool Makers Micro Scopes
Metallurgical Micro Scopes
Profile Projectors
Lathe/Milling/Drilling/Grinding
Tool Dynamometers
Surface Roughness Tester
Michelson Interfero Meter
Robotic Arm Trainer
Pneumatic Trainer
Hydraulic Trainer
Auto Collimator
Surface Plate
Dead Weight Pressure Gauge Tester
Floating Carriage Micrometer
Hydraulics Lab
Centrifugal Pump Test Rig
Flow through orifice/mouth piece
Caplan Turbine Test Ring
Francis Turbine Test Rig
Pelton Turbine Test Rig
Calibration Test Rig- Venturimeter
Flow through Notches
Reciprocating Pump Test Rig
Pipe friction Apparatus
Sumbersibile Pump Test Rig
Bernoullis Apparatus
Thermal Engineering Lab
Parallel Flow/counter Heat Exchanger
Twin cylinder Diesel engine Test Rig/Hydraulics Dynamometer
Thermal conductivity Apparatus
Natural convection Apparatus
2/4 stroke Engine cut model
Air condition Test Rig
Petrol Engine Test Ring
Refrigeration Test Rig
Shell & Tube Heat Exchanger
Marine/Aeronautical Engineering
Aeronautical Lab Equipments
SUB SONIC WIND TUNNEL
SUPER SONIC WIND TUNNEL
COMBUSTION PERFORMANCE STUDY
IN RAM / PULSE JET ENGINE ALONG
WITH COMBUSTION CHAMBER.
GASEOUS OXYGEN ROCKET MOTOR
COMBUSTION EXPERIMENT
FLAME PROPAGATION & STABILITY
UNIT
CAVITATIONS APPARATUS
CONTINUOUS COMBUSTION UNIT
DETERMINATION OF HEAT
OF COMBUSTION OF SOLID,
LIQUID FLUIDS
STATIC AND TOTAL PRESSURE
PROBES
BEAM TEST SET –UP (SSB
& CANTILEVER BEAM)
UNSYMMETRICAL SECTIONS
LIKE 'Z' SECTION
CHANNEL/ANGLE SECTION
CONSTANT STRENGTH BEAM SET UP
COMBINED BENDING AND TORSION
SET UP
PHOTO – ELASTIC APPARATUS
WAGNER BAM SET UP(WITH
HYDRAULIC JACK)
DIGITAL THERMO ANEMOMETER
TEMPERATURE INDICATOR
(RATIOMETER TYPE)
ALTIMETER ABSOLUTE PRESSURE
SENSOR
ENGINE SPEED INDICATOR
ELECTRICALLY OPERATED
INCLUDING SENSOR.
COLUMN TESTING APPARATUS
(MANUAL TYPE)
D.C. SERVO MOTOR (SPEED - TORQUE)
DEMONSTRATION UNIT
A.C. SERVO MOTOR (SPEED - TORQUE)
DEMONSTRATION UNIT
A.C. POSITION SERVO SYSTEM
DEMONSTRATION UNIT
D.C. POSITION SERVO SYSTEM
DEMONSTRATION UNIT
STEPPER MOTOR DEMONSTRATION
UNIT WITH 10 KG CM
TORQUE MOTOR
LINEAR SYSTEM SIMULATOR
TYPE "0" CONTROL SYSTEM
TYPE "1" CONTROL SYSTEM
TYPE "2" CONTROL SYSTEM
TEST SIGNAL GENERATOR FOR
TYPE "0" , "1" , "2" CONTROL
SYSTEM
STUDY OF SECOND ORDER NETWORKS
Propulsion Lab Equipments
PL1 - FREE & FORCED CONVECTIVE
APPARATUS
PL2 - CASCADE AEROFOIL SYSTEM
WITH MANOMETER
PL3 - X-Y COORDINATE 2D
TRAVERSE MECHANISM
PL4 - NOZZLE PRESSURE
DISTRIBUTION TEST RIG
PL5 - NOZZLE PERFORMANCE
TEST RIG
PL6 - FREE & WALL JET
EXPERIMENT
Aerodynamics Lab Equipments
Axial Flow Fan
Super Sonic Wind Tunel
Water Channel for visualization
Six Component Balance System
Cavitation Apparatus
Sub Sonic Wind Tunel
F. Bomb Calorimeter
Aircraft Structures Lab Equipments
Photo Elastic Apparatus
Strain Rosette
Thin walled pressure vessel
Logarithimic Decrement of
Damped System
Column Test Rig
Instrumentation Engineering
Temperature Control Trainer
Level Control Trainer
Flow control Trainer
Valve characteristics Apparatus
Multi loop control Trainer
Data Acquisition Trainer
Process Control Trainer
a. Current to Pressure Control Trainer
b. Pressure to Current Control Trainer
c. Control valve Characteristics Trainer
d. ND Trainer
e. Level Control Loop Trainer
f. Pressure Control Loop Trainer
g. Temperature Control Loop Trainer
h. Flow Control Loop Trainer
i. ON-OFF Controller of Temperature
Trainer
Whirling Psychrometer
Wet & Dry Bulb Thermometer
Thermo Hydrograph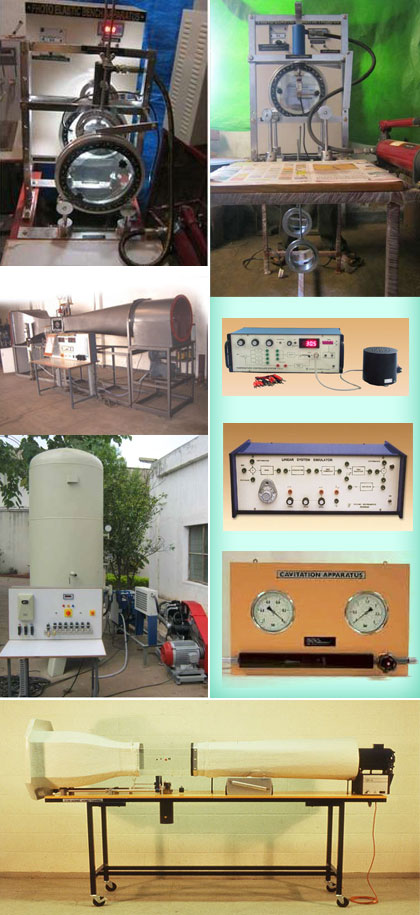 Download eBrochure
Keep a copy of handy ebook for a quick overview offline about us and our range of products and services. If you cannot download ebook, get a PDF brochure here.